Hi Everyone 👋
Interesting times, huh? Edge has been impacted by the fallout from Covid-19 like many other businesses, with significant loss of business and a reduction in our pipeline. We've taken a number of steps to secure our runway and remain confident for the future. The network's proposition is unique, and a key selling point is price. This gives it a competitive edge in these challenging times.
Subscriptions for CDN are on stage ready for release. It's Friday, so we're going to hold until Monday. In the meantime, here's a breakdown of what's on offer:
We've focused on subscriptions over pay as you go for this first release because we need to manage growth at this stage in the network's lifecycle. PAYG will be added as an option in time.
Fiat payments are being released first. Why? Because we are targeting as wide an array of businesses as possible.
Crypto subscriptions will be going live in around about a month, but are available now directly through the team. Hit us up on sales@edge.network if you're interested.
Also to note, we are accepting $EDGE as payment for services. This is an alternative to swapping for those holding the token for service use, and is designed to keep things simple for them. We're pegging the value of $EDGE used for services in this manner to TNC.
We have six subscription levels available:
Free
Developer
Startup
Growth
Business
Enterprise
These levels benchmark well with traditional cloud-based alternatives, delivering an average saving of 60% vs. traditional cloud services (based on existing production customer data).
Set up is fast and hassle-free, and you can be online in minutes.
CDN provides a full imaging pipeline as standard. This is an extremely powerful functionality that enables the treatment of source images in real-time, removing the need for an intermediary layer and enabling you to handle media in code.
You can crop, scale, rotate, optimise colourise, combine, blur, filter, flip, format, and sharpen using URL variables in image requests.
Site updates are coming soon, focusing the homepage on the first service to have payments live. This will include an intro video to Edge CDN. Documentation will also be going live on site.
As well as setup and renewal emails, we've also introduced optional usage alert updates which will trigger when a Content Distribution deployment is getting close to the allocated usage limits.
And you'll be able to see your usage directly in Console with 60-second updates.
Here are some more screenshots of subscriptions for CDN (test content):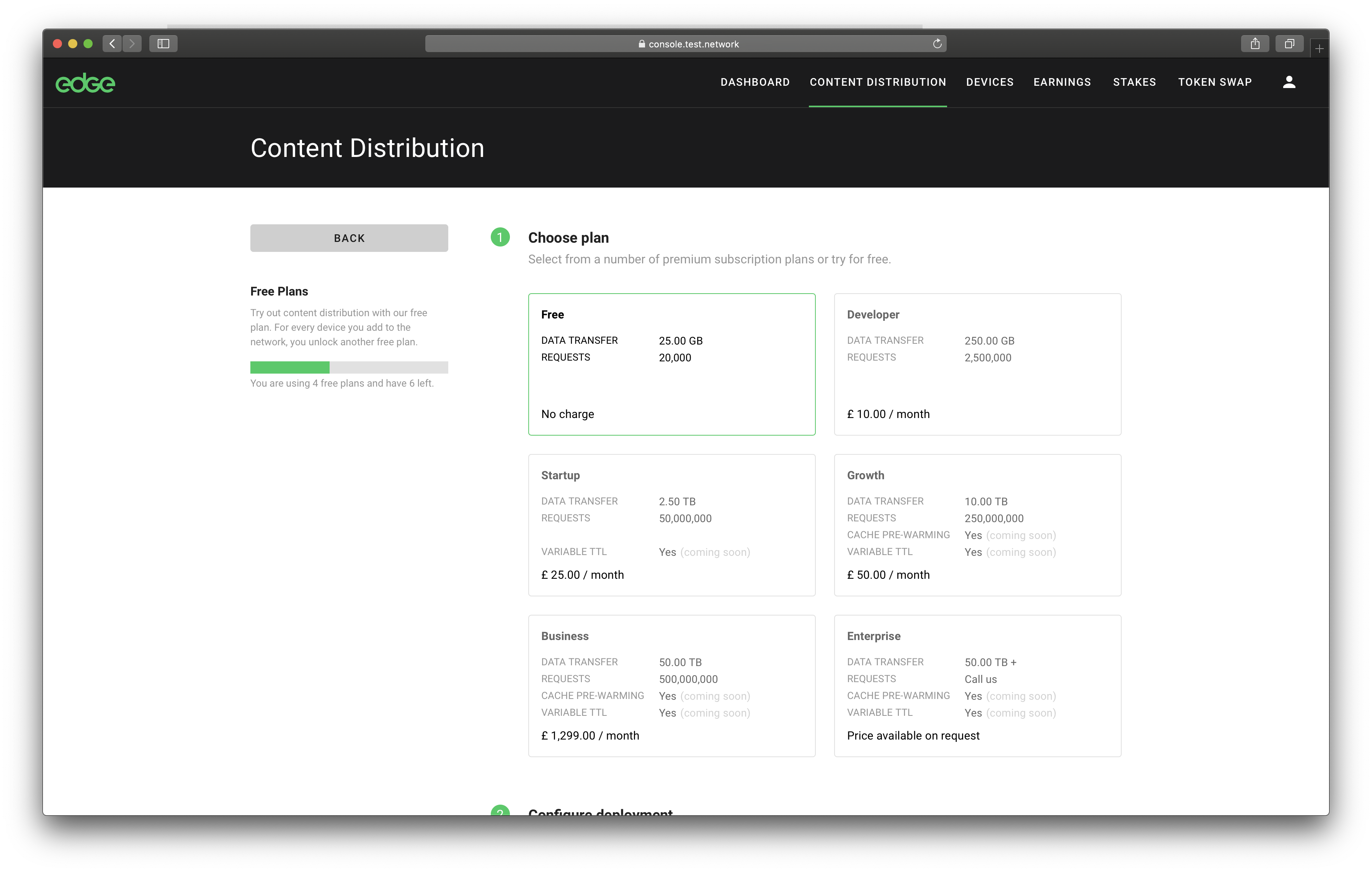 The plan selection page shows the cost and features available for each plan.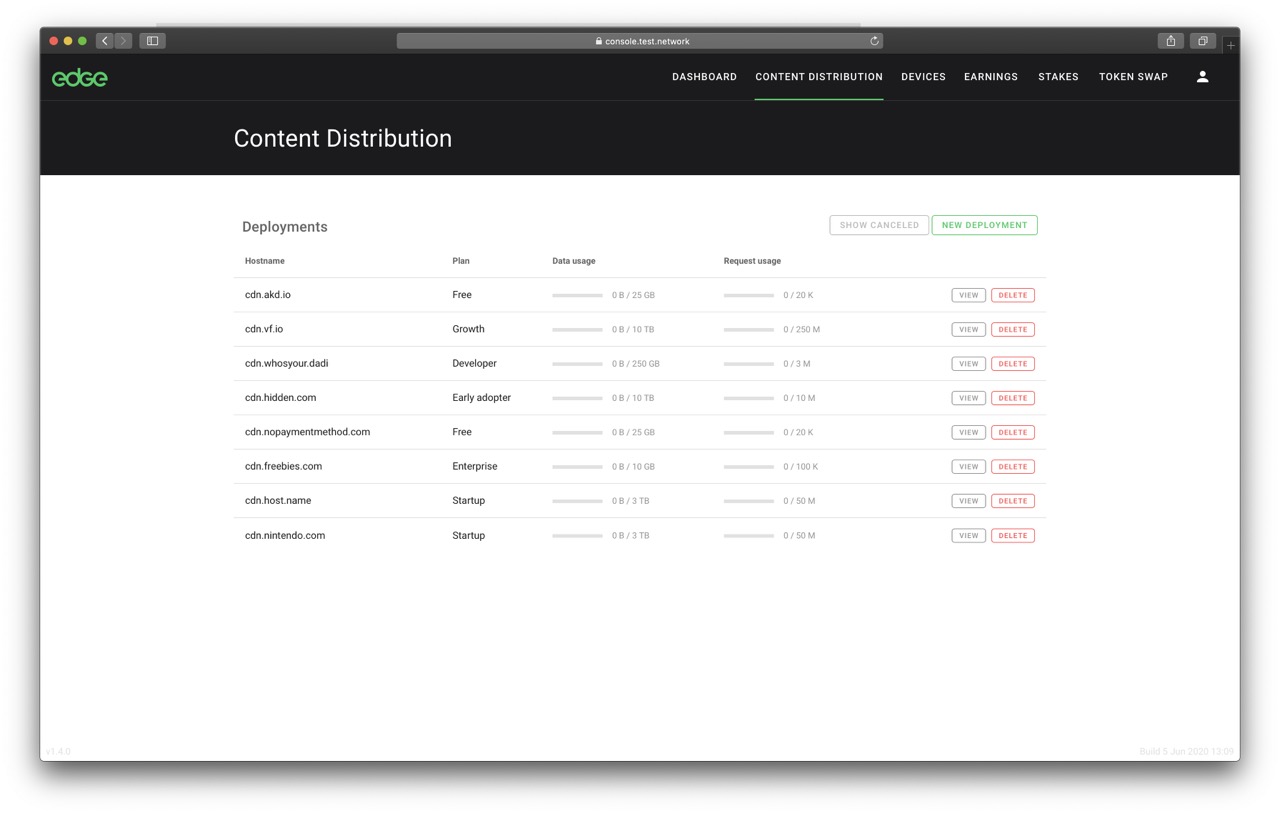 After creating a plan you'll see an overview as well as the DNS configuration details you'll need to complete the setup process.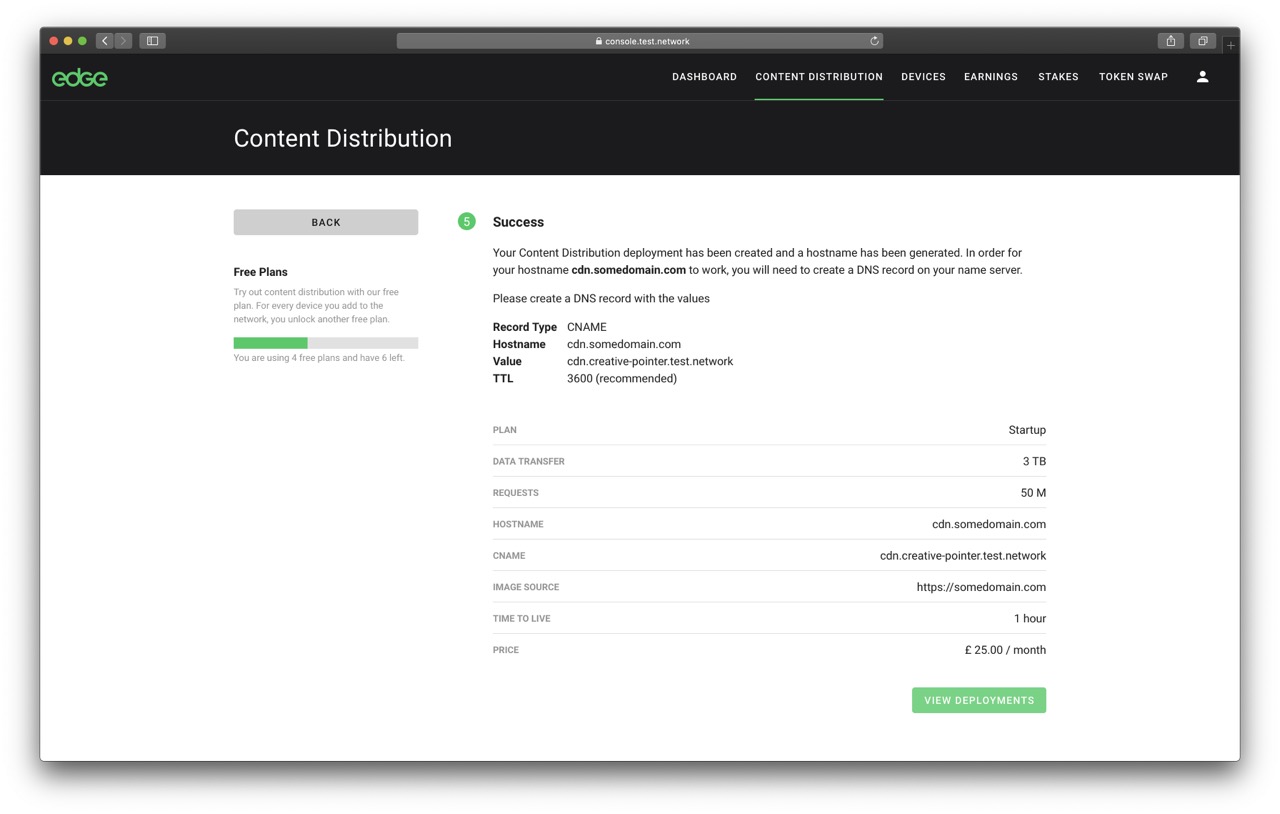 Deployment configuration allows you to choose a custom hostname, the source of your images and assets, and the cache TTL.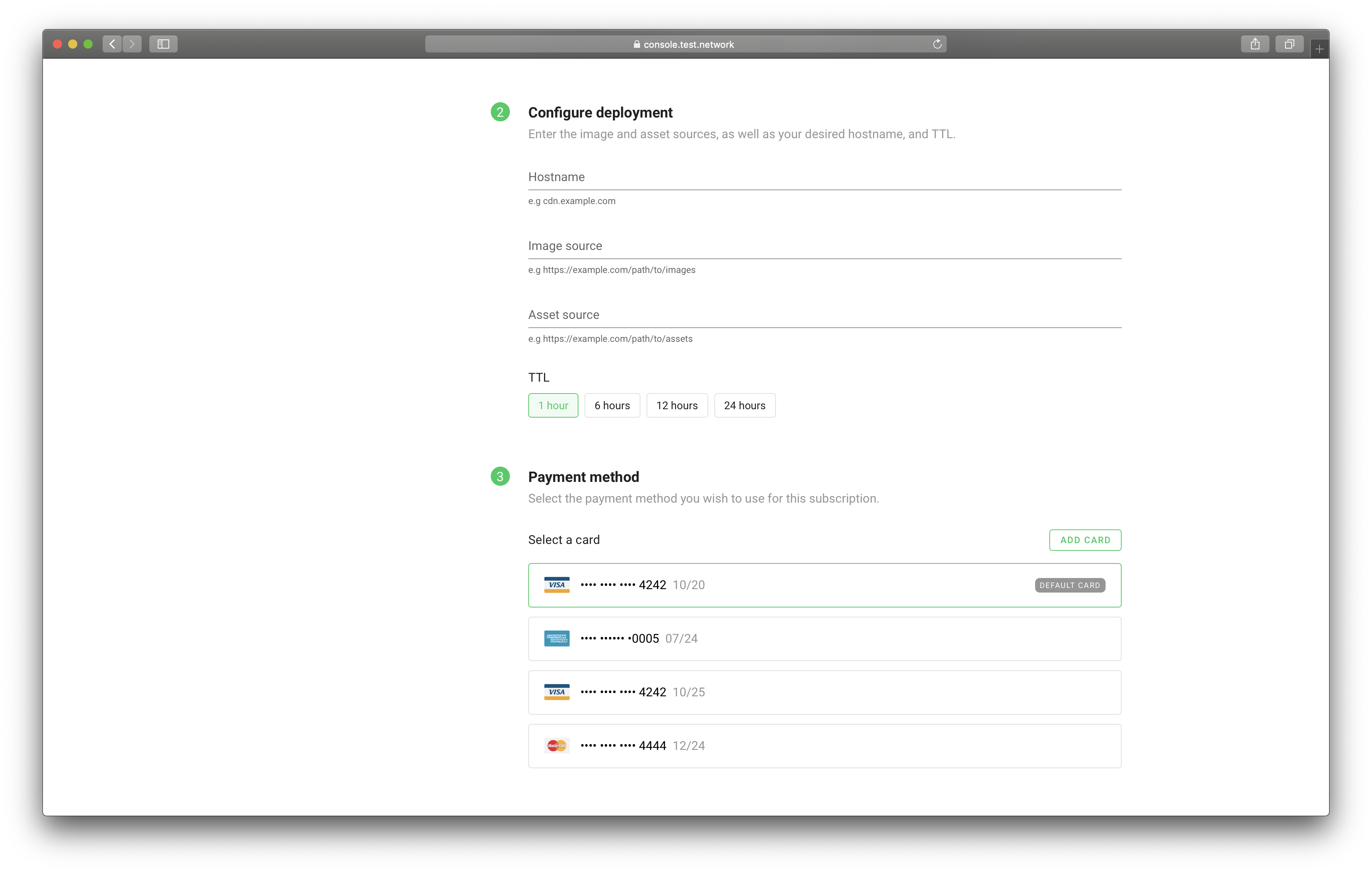 Deployment configuration allows you to choose a custom hostname, the source of your images and assets, and the cache TTL.
The focus post launch will be on direct sales and partnerships. We have a series of significant partnership discussions already in progress.
Our new support channel is now live. We've moved to HelpScout, which is providing us with a more agile support desk function.
We will be launching a referral programme in the coming weeks. This will pay a healthy commission for introducing business to the network, up-weighted for network contributors.
The Gateway dynamic queue is coming along well, and is currently in the testing phase. We hope to release this later in the month.
CDN SVG support is also running on testnet, and will be released later next week. It allows the manipulation and conversion of SVGs into other formats including GIF, PNG and JPG.
On to TNC.
As you know, TNC has been delayed. This is unfortunate and not our desired outcome, but overall we believe for the best. Why? It allows time for the TNC team to upgrade their smart contracts, move to automatic distribution (!!!) and further harden security; it allows time for further exchange onboarding; and of course it gives more time for individuals to swap.
Distribution is ongoing. The process is frustratingly slow, but we're moving through in batches.
The exact date for release isn't yet set. We're pushing for confirmation and will let you know as soon as we do.
With regards to ADN, the announcement of it joining the first group didn't come through TNC HQ and is not official. We're following on this and will have more information soon as well.
Node earnings will continue to accrue in $TNC, and will be released at the point of first unlock.
And that's it for this week.
Enjoy your weekends.