Good afternoon everyone 👋
It's been a pretty busy week, one way or another!
Cookalong TV held its first live event, hosted by Alex Jones of the BBC's One Show. Cookalong is built on Edge tech and is using CDN in the network. You can see the first event there: https://cookalong.tv/alex-jones/prawn-and-courgette-fettuccine/02-07-2020/20:45
Chris and I had good tech conversations with two potential partners, which I hope to be able to share more on in the near future.
The network team worked through a few issues with the CDN communication protocol.
Work to further harden CDN progressed, with enhancements to its security model implemented and moved to test.network.
Console has been moved forward, with some UX clean up to the invoices section implemented. An issue with email delivery via Network API was also resolved.
The migration of Vault away from a single Stargate progressed - part of the overarching move away from Consul.
Work has also progressed on the exposure of metrics from some of our core services, such as Network Sync and the Network API. This is ongoing but so far it's looking extremely interesting and useful.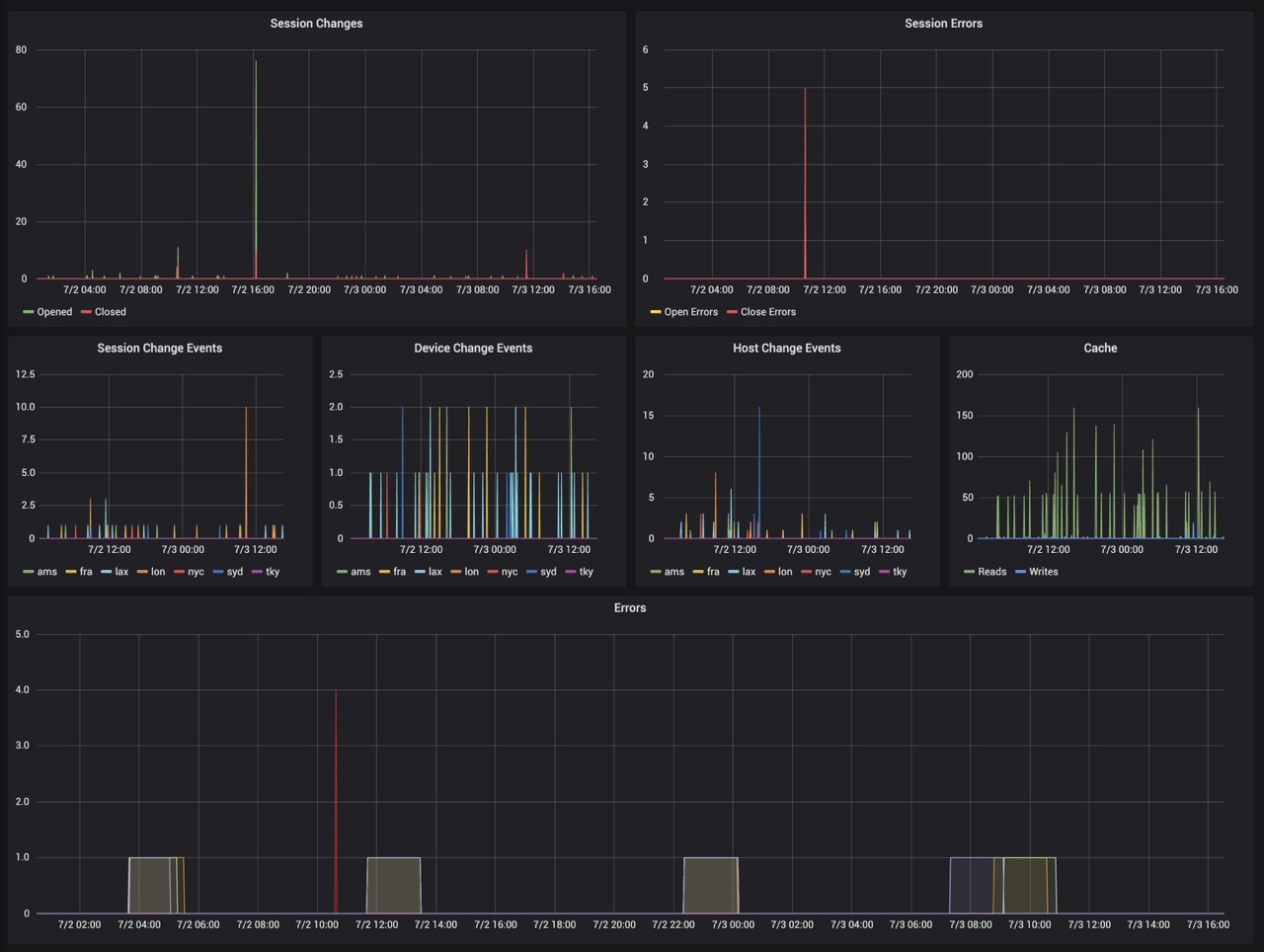 And a fix was deployed to Sync for a bug that was discovered during the implementation of metrics. Some sessions weren't being monitored, so on Explorer it appeared like there were less devices online than there actually were. The cache key prefix was updated to flush the data, but this also required a restart to SYD Stargate, and then FRA Stargate, and this reshuffle plus the purged cache brought everything back into sync (pun intended).
This can happen from time to time with Consul and is a known issue. This is one of the reasons we're pushing hard to move away from it and to a network native solution.
Adam's take on Consul is as follows:
"It cannot be understated how important it is to move away from Consul to a network native solution. Over the last year we've worked hard to reduce our dependence on it, and this effort continues in earnest. When we finally remove Consul from Stargates I'm going to have a bottle of Champagne — to myself."
Our attention was drawn to the disparity between $EDGE tokens for services valued at the point of the announcement of the swap vs. the current value of TNC. We've amended the position and are now accepting $EDGE for services pegged to the value to TNC and to the swap schedule. This means 1 $EDGE will be valued at 11 TNC * 10%. If you want to use $EDGE for services instead of swapping, please reach out on: support@edge.network
Finally thank you for the questions for next week's #AMA. Please keep them coming.
And that's it for this week. Enjoy your weekends.